Dear Husband
, this week has been rough on you getting everything straight for your new classes this semester. Just know that you're going to blink and it'll be December. You can do it!!
Dear Vertigo
, you reared your ugly head yesterday. I hate the way you make me feel, but I guess it was your way of telling me to slow down and rest.
Dear NOLA
, we are leaving to come see you at 7:30 AM tomorrow morning. Can't wait to celebrate the upcoming wedding of Emily and Patrick. Let's pretend like we're in college again!
Dear College Football,
You. Are. Back. It's officially the most wonderful time of the year. Hail State!
Dear Patrick
, I already said "thank you," but I don't think you know how much it meant to me that you checked on me in between your jobs yesterday. That two minute pit stop was the highlight of my day!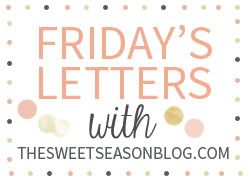 <a href="http://www.thesweetseasonblog.com" target="_blank"><img src="http://i1225.photobucket.com/albums/ee391/ashleyjps2326/FridaysLettersButton_zps485705e4.jpg" alt="Photobucket" border="0" />