Obsessed would be an understatement
1. Job- I finally really got to start my new position at work. Even though I am still working my old job, it was nice to get up and learn some new things. One of my favorite things about this new position is how much I get to move around the office. Sitting in one space all the time kills me.
2.
New outdoor furniture-
Y'all, I can't even describe how excited I am about this. We found a
table
at Ikea that we will be going to get this weekend and some
chairs
we found at Home Depot. I am so excited to be able to use our back deck more and to enjoy all of this wonderful weather coming our way.
3.
Warmer weather
- Speaking of the weather ... I am loving weekends recently. Every weekend the weather has been making up for the crappy stuff Mother Nature has been giving us during the week. It's supposed to be in the upper 60s / Lower 70s this weekend and I cannot wait.
4.
Laptop-
After going a year without a functioning laptop I will finally get
my own
this weekend!! Hooray!! Thank you, tax return!
5.
New Planner-
I am one of those people who has to write things down in order to remember them. I was always super excited as a kid whenever it was time for me to get a new planner. Well, some things never change. I am convinced that an
Erin Condren
package is one of the many forms of happiness. I spent over an hour last night getting my new planner filled in, and I may be carrying it with me everywhere today. Like everywhere I walk... I'm a nerd and proud of it.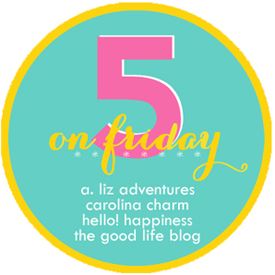 I am linking up with the ladies who originally started this whole shindig;
Darci
;
April
,
Christina
, and
Natasha